One for the Pot Reviews

Ray Cooney is a legend of British comic theatre, from the mid 60's to the mid 90's there was always a Ray Cooney farce playing somewhere in London's West End. Mr Cooney is 87 years old and still going strong proving the old adage laughter is the best medicine....... (Glam Adelaide)

An Inspector Calls Reviews
Pirates of Penzance Reviews
STAGE WHISPERS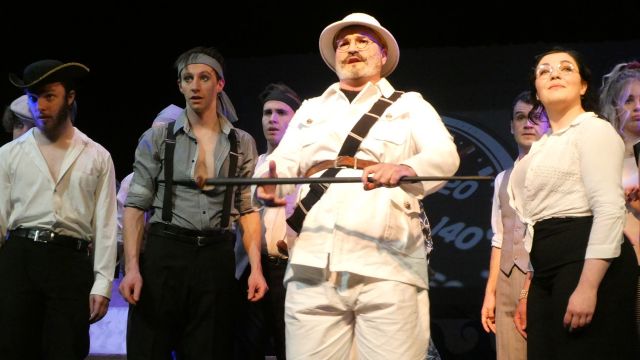 Music by Arthur Sullivan. Lyrics by WS Gilbert. The Therry Dramatic Society. Arts Theatre, Adelaide June 6th – 15th, 2019
Some 140 years ago, Pirates was the first Gilbert and Sullivan (fondly referred to as G&S) operetta to preview on the New York stage. Since then, Pirates has become one of the most loved, performed and frequently referenced of their works. It features the famous, much parodied, "Major General's Song" which has become the basis of innumerable marketing and political campaigns, satire and film and television features.
Based on a Broadway adaption by the New York Shakespeare Festival and directed by Richard Trevaskis, this Therry Dramatic Society show has brought together a team of performers who particularly relish the comedy and wit of Pirates. G&S are famous for their unashamed social and political barbs, so a tale about a young indentured pirate, born in a leap year, trying to go 'straight' who falls in love with the daughter of gentry, has real potential as a crowd pleaser, and the response of the opening night crowd indicated that this is an audience winner.
Musical Director Mark Sandon runs a tight ship throughout the overture and 28 songs, and whilst, on opening night there were moments of disconnect between performers and the 26-person orchestra, it is a 'singers show.'
The standout audience pleaser was comic baritone Nicholas Bishop as the beleaguered father and Major General. His signature song, which is a feat of clever, precise singing was however, somewhat garbled at speed in contrast to an almost laconic acting pace. Musically, Serena Martino-Williams as Mabel has a mellifluous voice that, in the upper register, makes the lyrics hard to understand and relate to.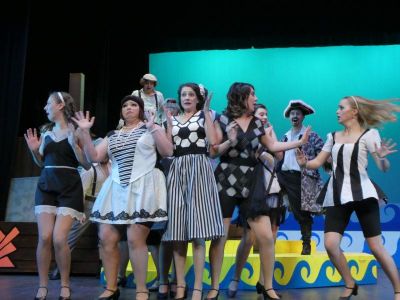 Jared Frost, as Frederick, has an excellent tenor voice for the role. On opening night, he appeared somewhat disengaged and tended to literally walk through his movements and interactions with other characters, bar some lively singing and moving in Act one with Vanessa Lee Shirley as Ruth.
The lesser Principal roles and the work of the ensemble is impressive and musically strong. In this production they are a vital linking force, delivering a musically and theatrically strong performance.
Baritone Chad Crittle is well costumed and delivers a very good performance as the Pirate King; so too, does Nick Coxhill as the Police Sergeant, his singing, expressions and delivery adding significantly to the humour and camaraderie of the performance.
All G&S fans know and love "With Cat-like Tread" and "A Policeman's Lot is not a Happy One" and in this production, both are a musical and 'funny-bone' treat. "Hush, hush! Not a word"features clever effects with flashlights, bringing together the bumbling, cowardly policeman and the business like pirates, each group seemingly unaware of the other. The crowd loved the 'high camp' choreography that almost delivered a high kicks line up.
The production side of the show has both high and low spots. Costumer designer Vanessa Lee Shirley attempted some quirky and clever costuming that has not quite worked. The male pirate ensemble, dressed in mixed era waistcoats and flat caps look more like East End London barrow boys than pirates, and the black and white themed female's costumes, cleverly linked between acts, suffered from being ill fitting and unflattering for some of the cast, particularly the ensemble who were portraying very pretty daughters. The concept of an 'indeterminate time in the past', as given in the program is not well supported visually by costumes that have a mix of larger numbers of deco style with other eras added, seemingly at random. It may have had more impact if the collaboration by Shirley, with Tim De Jong as Set Designers, reflected the costume colour palette theme.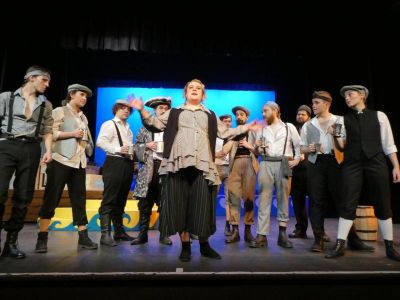 The opening up of the set, rather like an art deco block set, was a highlight of Act two. The lighting does not add to the show. It is workmanlike and often is seen as a series of follow spots that do not quite keep up with the performers. The creation of the night time 'cloak of darkness', is, however, effective.
Choreography by Konstanz Symeonakis is a strength in this production. It is not over complicated, but is lively, well executed and adds to the fun and pace of the show, particularly in the hands, (and feet) of the policemen and pirate crews.
Therry's musicals are always regarded as a highlight of the year, so if you are looking for a feel good night out, hoist your black jack, heave ho and head to the Arts Theatre to find some treasure.
Jude Hines
GLAMADELAIDE
The program says "an indeterminate time in the past" but it is difficult to figure out what the production team was aiming for! Costumes from maybe 1920's (monochrome silent film style) with a Pirate King much more 1800's, inconclusive first act set, art deco second act and salutes to a queen who would have been long dead! This confusion confounded by an original script which claimed Frederic's business suit to be alarming and had the daughters being coy about taking off their shoes and stockings whilst displaying more leg than G & S would have thought decent.
Apart from all that the set was clumsy (and why did they wait until the lights were up to have the crew change the set for the second act?), the pirates looked more like a street gang and I'm still not sure about the Major-General. So visually I did not like this production, unusual for a Richard Trevaskis directed show, but vocally it was great.
Jared Frost was wonderful as Frederic, lovely characterisation and a voice to suit. Serena Martino-Williams is sweet Mabel but with just enough bite and a beautiful voice. Their duet was lovely. Chad Crittle did well as the Pirate King but could have been more swashbuckling if they had given him a sword for his big song. As Samuel, Nathan Quadrio was very much the character and showed how much his voice has improved. Ruth is very much a fun character and Vanessa Lee Shirley more than did her justice, holding her own in the duet with Frederic. The famous trio song with the King and Frederic was well done.
As the sisters Emma Haddy (Edith), Verity Colyer (Kate) and Grace Frost (Isabel) combined their voices and showed the right amount of sass. Nicholas Bishop was a commanding figure as Major-General Stanley and was in fine voice but the orchestra raced the beginning of his Modern Major-General song, which meant he lost diction too soon. Nicholas Coxhill completely nailed it as the Sergeant of Police and led an excellent ensemble in their shenanigans. In fact Konstanz Symeonakis' choreography was quirky and fun. Mark Sandon's orchestra was outstanding with a balanced sound just a little fast at times. Full marks also to Marty Gilbert on sound; at no point did the orchestra drown out the singers!
In conclusion, this is not the most stunning Pirates I have seen, but comes close to the best I have heard, but when you see it (and you should) look out for the cross-dressing pirates and daughters, yet another oddity!
Reviewed by Fran Edwards
TASA
Thoroughly entertaining! Therry's latest production is the consumnate G&S crowd pleaser, Pirates of Penzance and what a great choice it is. This century old production never fails to please with madcap antics of pirates, bobbies and general's daughters and some of the finest and most memorable patter songs in Musical Theatre history. Director Richard Trevaskis has assembled a fine cast and used them well. The production includes modern elements and added humour through clever use of the ensemble and in having characters break the fourth wall but is still, on the whole, true to its origins, pleasingly so.
Chad Crittle is excellent as the rambunctious Pirate King with fine voice and a penchant for flamboyance as he leads the ramshackle crew of pirates. Jared Frost, though a little mature to be pirate apprentice Frederic, is delightful in the role, coping admirably with the challenging score and bringing a subtlety to the humour of his character through his understated and earnest approach. Vocally the show is transported to a new stratosphere when we meet Mabel, Serena Martino Williams, whose crystal-clear soprano voice is a pleasure and she fulfils the acting requirements with a fine portrayal of the tender emotion and underlying strength of her character.
There are many other performances worthy of mention. Vanessa Lee Shirley has impressive comic timing and is clearly enjoying the role of cantankerous Ruth. Nicolas Bishop as the General delivers the indomitable 'Modern Major General' song with polish and precision. Nathan Quaddrio draws the eye with his immersive depiction of Samuel.
The talents of Musical Director Mark Sandon and Choreographer Konstanz Symeonakis are most evident in their work with the ensemble who deliver good vocals and exuberant movement. The orchestra are tight and never drown out the action on stage.
The costumes, designed by the multi-talented Vanessa Lee Shirley, are stylish and effective although I'd like to have seen some distinction in Frederic's attire from apprentice Pirate to indenture free paramour of the Major General's daughter. The set by Tim De Jong and Vanessa Lee Shirley is simple and while in act one it feels a little incongruous to the overall artistic expression, in act two it is the perfect backdrop to the monochrome outfits. With clever lighting design by Mike Philips, the scenes are visually balanced and appealing.
This is a well-paced, buoyant and uplifting production that will engage lifelong fans of Gilbert and Sullivan as well as those new to the material.
Trish Francis
GO BACK FOR MURDER REVIEWS
Barefoot Review by Samela Harris
https://www.thebarefootreview.com.au/menu/theatre/119-2014-adelaide-reviews/1810-go-back-for-murder.html
It's amazing how the old girl always does it; has one guessing until the end.
Go Back for Murder is perhaps the trickiest of the Agatha Christie stage plays since half of it is confined to intense one-on-one interview scenes set in the 1950s with the second half a massive dissected flashback to 16 years earlier.
Its strategy is to dislodge the whodunnit's identity from the evidence of five people who were present when the crime was committed. How does time distort memory?
When first written as a Poirot novel, Christie named this story Five Little Pigs. When she changed the name, she also replaced Poirot with a young English lawyer called Justin Fogg. And here he is, sleek and handsome, artfully embodied by Simon Lancione, sitting at his desk with his 1950s telephone consulting Carla Le Marchant, the daughter of his father's old flame, Caroline Crale. Of course, it is all wildly Christie-complicated. His father was the lawyer who defended Caroline back in the 1930s and now Carla, whose mother died in prison, has received a letter from beyond the grave declaring Caroline was not guilty after all. So, Carla, who has been raised in Canada, has come back to England on a quest to clear her mother's name before she marries. The actress who plays Carla has to double as Caroline in the flashback.
Chanelle Le Roux's characterisation of Carla reminds of the American actress Chloe Sevigny with her swift delivery and her crisp accent. It's an outstanding performance albeit, ironically, she seems less at home in the transition to the British inflections of the mother, Caroline.
Because the denouement is delivered in flashback, everyone in the cast bar the victim and Ms. Le Roux has to age 16 years - a very tall order which the Therry players accomplish effectively.
But first, they play on a stage cleverly divided into small offices: two with desks and phones; the other with side table and kettle, it being the home of the old governess, Miss Williams. Good lighting and swift cues make the conceit work nicely, along with torrents of information from the characters. It's a wordy play, its verbosity a bit much for some.
When glamorous Elsa, now Lady Markham, sweeps onto the stage in the form of Zanny Edhouse, one is reminded of Vivien Leigh. If anything, Edhouse sustains this confident sense of vanity and poise as she loses years down to her time as the murder victim's alluring young model. Her stride in flat shoes adds an extra dimension. It is another exceptional performance within this production.
Indeed, veteran director Norm Caddick has rounded up quite a thrilling cast of fresh and very able actors. He also has elicited from them a beautifully measured and very English delivery. Christie to the enunciated "T".
Heather Riley captures superbly the essence of the good, English governess in Miss Williams, immaculate in age transition. Lani Gerbi has the biggest transition. After asserting an interesting adult as Carla's disfigured half-sister in the first Act, she must transform to child in the revelatory flashback, to which end Gerbi gives the audience a welcome giggle with her lumbering childish petulance.
The supporting cast, especially Philip Blake and Jeff Rogers, keep the British upper lip nicely stiff, while Graham Lamonby as the amateur chemist and family friend, Meredith Blake, with his brother played by Jeff Baker, are pleasantly bumbling but vital ingredients to the plot which involves herbs and drinks and fingerprints and complex motives.
As the murder victim, the egocentric skirt-chasing artist Amyas, Stephen Bills does not have to age up. He just has to chew on paint brushes and be a devilishly handsome rotter. He does this with such aplomb that one is not a bit sad when he is knocked off.
Nick Spottiswoodes's today-and-yesterday sets are nicely evocative and the frocks, really, are lovely. Brava Gillian Cordell
Glam Adealide Review by Adrian Barnes
GLAMADELAIDE
https://glamadelaide.com.au/theatre-review-go-back-for-murder/
Go Back For Murder was adapted for the stage by Agatha Christie from the hugely successful novel Five Little Pigs, in which Hercule Poirot was the main character. In adapting the play, Christie changed the title and dropped Poirot completely from the story, replacing him with Justin Fogg, the handsome young lawyer. An odd choice, one might think. But as Christie herself confessed she never warmed to the character of Poirot, and for the purposes of the play Fogg is part of a much more satisfying resolution to the story – no, you'll have to go to see it.
Norm Caddick has assembled a fine group of Adelaide actors who have a real gift for story-telling, and the first night audience were clearly caught up in the thrill of the ride. It's a clever story very well told. Simon Lancione is in fine form, and his crisp British solicitor (Justin Fogg) is a credit to Lancione's skill. He drives the story relentlessly forward, and his second act narrative is a gift to the play's momentum, giving the other actors a clear and defined pathway to an elegant conclusion.
Chanelle Le Roux was at home in the double roles of Carla Le Marchant and Caroline Crale. Clear, efficient story-telling coupled with a real connection to her task as an actor gave Le Roux the opportunity to shine in this difficult dual role, though her British accent could do with a little more articulation; I lost some of the words in the second half. We had become so used to her Canadian accent that her British accent demanded a new way of listening from us which unfortunately got lost in the delivery at the beginning of the second half.
Zanny Edhouse as Elsa, Lady Markham is proving herself to be a very capable and versatile actor. It is really good to see her developing some weight and grace. It is always difficult to span 16 years in a performance, especially when you have to leap 16 years in a quick change; really good work. But that must also be said for all the rest of the cast who had this demand put on their resources. Really impressive work. Heather Riley managed a very convincing portrayal as Miss Williams. I was particularly impressed with her last 16 year character change; she aged before my very eyes. Lani Gerbi as Angela Warren seemed to have more than a passing resemblance to Miss Casewell from The Mousetrap after her trip to a swiss boarding school. I'm not sure if this was meant to be a warning for the uninformed, but it was a strange choice, particularly as Angela's character has the most demanding change from adult to petulant teenager.
Steven Bills, in another self-confessed portrayal as an Englishman, brought a great lift to the second half of the piece – a resonant, spiky artist in the throes of falling in love with the subject of another of his portraits. Bills' ability to change mood at the drop of a hat really kept an attentive audience on its toes.
Thomas Filsell gave a brief but engaging performance as Jeff Rogers, with clean delivery and some good comic timing. Jeff Baker's Turnball was endearing and slightly goofy, perfect for the character. Ron Densley as Phillip Blake settled into a very solid performance and Graham Lamonby as Meredith lake gave us a really flaky character, the perfect foil for his anal-retentive brother.
Nick Spottiswoode's set and Richard Parkhill's lighting gave the actors a lively and interesting playpen to work in. And, as always, the cast were supported by a well-honed back-stage team led by Ray Trowbridge. The costumes were a credit to Gilian Cordell and that crew of dressers earned their drink at the bar.
I sat amongst an audience thoroughly enjoying a very good, well-cast, engaging Agatha Christie. She still has the ability to keep us on the edge of our seats guessing. Well done, Norm Caddick, and well done, Therry. Give 'em what they want and they'll keep coming back for more.
STAGE WHISPERS
Review by Jude Hines
http://www.stagewhispers.com.au/reviews/go-back-murder
By Agatha Christie. Therry Dramatic Society. Arts Theatre, Adelaide. February 7 – 16, 2019
Therry are well regarded as providers of varied, quality theatre designed to entertain both a loyal membership audience and the general public. Agatha Christie murder mysteries are renowned as crowd pleasers and it was Therry that successfully won the Australian rights for The Mousetrap, also directed by veteran Director, Norm Caddick, in 2011. It must be noted, however, that all Agatha Christies are not created equal.
Published in 1942, Go Back for Murder is an interesting take on a traditional murder mystery. The action moves between the present in the story, the 1950's, to the late 1930's and back, examining the danger of relying on personal testimony that may be shaped by time, prejudice and perception. By studying each suspect's testimony, and the various inconsistencies between them, the drama arrives at a disturbing and terrible truth. But let's not introduce a 'spoiler' here.
Originally published as the book Five Little Pigs, it included the detective, Hercule Poirot. In 1960, Christie adapted the book into a play, Go Back For Murder, but edited Poirot out. His function is filled by young lawyer, Justin Fogg,played by Simon Lancione in this production. Fogg is also the son of the lawyer who led the accused murderer, Caroline Crale's defence. Poirot traditionally had the capacity to focus the action, and by removing Poirot from this story Christie has created a narrative that is complex and challenging for the actors and the audience in terms of keeping track.
After receiving a letter from beyond the grave, Carla Crale, who has spent the intervening years in Canada,believes her dead mother was wrongly convicted of her father's murder.Carla consults Fogg and they embark on some sleuthing, discovering that, on the day of the murder, there were five other people at the house – the 'five little pigs' of Christie's original novel.
In a passionate attempt to clear her mother's name, Carla persuades those present on the day of her father's death to return to the scene of the crime and 'go back' 16 years to recount their version of events. These characters include Angela Warren, who is now a distinguished budding archaeologist. Lani Gerbi as Angela is believable in the adult role, but less so as the teenager.
Lady Elsa Melksham is played by Zanny Edhouse while the retired governess, Miss Williams, is played by Heather Riley. Edhouse is glamorous and appropriately cynical in Act One.As the young Elsa, her histrionics make her a less compelling and sympathetic character.
In flashback in the second act, we meet Steve Bills, as Amyas Crale, a self-centred womanising artist. He convinces the audience that he may be misunderstood, but that does not save him from becoming the murder victim.
The other male characters are less significant, other than possibly providing the appropriate 'red herrings' that we all so enjoy in Agatha Christie's work.
Aptly, the opening curtain is red and opens to reveal a single-level set that creates three separately lit playing areas used for Act One. The set and lighting are functional, but each playing area looks very similar and the style features of the period are not particularly evident. Act Two takes the audience back in time to the scene of the crime, in the west of England and visually, the courtyard creates interest and is well used as the artist's working area.
One of the joys of a Christie play is being immersed in the look of the period, and whilst this production gives a nod to the look of the early 1950's, the second Act, set some 16 years earlier, does not reflect the time effectively. There is a particular challenge for Chanelle Le Roux, who has to move between eras and characters quickly, playing both Carla and her mother, Caroline. Hairstyles in the main do not, for most, support the characterisation.
Le Roux, Zanny Edhouse as Lady Melksham, and Lancione in the key 'leading man' role of solicitor Justin Fogg, capture the clipped upper class English accent well, others less so and less consistently.
If you are an Agatha Christie fan this is one less often performed. For murder mystery fans it has the much-anticipated interesting twist that you will enjoy.
THEATRE ASSOCIATION OF SOUTH AUSTRALIA (ENCORE)
https://www.tasaonline.org.au/index.php/reviews/reviews/766-go-back-for-murder-therry-dramatic-society
Review by David Smith
Norm Caddick knows his way around the repertory theatre scene and it's abundantly clear in his direction of this Agatha Christie murder mystery. He and the cast smoothly and swiftly navigated their way through the sometimes wordy expository scenes of Act 1, nicely setting up our expectations for the recollections and crime-scene reconstruction in the second Act.
Nick Spottiswoode's set functioned well enough, divided into three internal scenes in the first Act and opening up into a large room effectively cut away to the patio in Act 2.
Most of the actors succeeded in playing their characters both in contemporary time and sixteen years earlier. In that, Heather Riley as Miss Williams showed strength of will and character, Ron Densley was suitably understated as Philip Blake, and Graham Lamonby was amiably pleasant as Meredith. Lani Gerbi showed life and youthful willfulness as Angela, and Zanny Edhouse was sparklingly arch as Elsa, while Stephen Bills had the right balance as the flawed Amyas.
Simon Lancione as Justin Fogg, having played the critical role of the smart and determined young lawyer in Act 1, was equally important and convincing as both participant and narrator in Act 2.
Holding the plot together, and providing the impulse for most of it was Chanelle Le Roux as both Carla and her late mother. That took remarkable skill and style, and she played the roles splendidly, differentiating them sensibly and subtly. Hers was a most convincing dual performance.